Our spring cleaning service offers your home a deep, thorough clean throughout. A spring clean is best suited for those who do not need a regular clean, but from time to time desire the help from a professional to clean and tidy their home from top to bottom. We love to please our customers and are consistantly commended for our one-day spring cleans.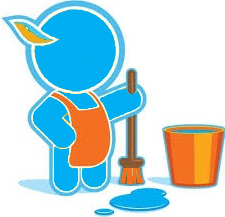 How to book a spring clean with Kleenology
Booking your spring clean could not be easier. Give us a call and we can discuss your requirements and ascertain the amount of cleaning time required. The cost will depend on the size of your house and your individual requirements.
Overview: Our spring clean service can include…
Thorough Vacuum of carpets and hard floors and mop where necessary
Clean under and behind furniture and move where possible
Thorough kitchen clean
Thorough bathroom clean
Thorough dusting throughout
Wash all tiles, floor to ceiling, in bathrooms and toilets
Wash all gloss work and woodwork
Clean radiators and light fittings
Clean inside windows, and window frames
Empty inside bins
Remove cobwebs
Clean pictures and mirrors
Contact Us
If you have a question or would like to talk to us about your requirements then please do not hesitate to get in touch.
Send us a message